Antique & Classic
Engine Rebuilding
From Austin Bantams to Yugos, ARI Racing Engines & Complete Machine Shop in Grandview, MO has worked on just about everything since we opened this shop in 1971. Our shop specializes in restoring these vintage engines and reconditioning parts to get these cars back to their original state, and usually improving on what the manufacturer produced. With many years of collective experience and a fond appreciation for everything mechanical, we take great pride in our work.
Cylinder Block Preparation
Our unique cleaning process is nondestructive, environmentally safe, and cleans rust, paint, grease, etc. The block is returned to essentially the same state of cleanliness that it was as a new casting. We then magnaflux the common surfaces for cracks, and we check the pressure if the piece has been sitting for some time and is being reclaimed after years of neglect.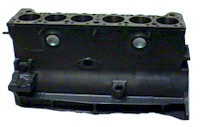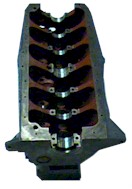 Nash 6 Cylinder Block prepped and treated with
sealing paint
Once it is determined that the piece is not cracked,
We commence with the necessary machine work. Boring and honing, and align boring and align honing, if necessary, are all done here at our in-house complete machine shop.
We do that, and any cosmetic detailing the customer may want, on blocks that were originally coated on the inside with glycol or a similar sealing paint. Then, we install new camshaft bearings, freeze plugs, oil galley plugs, etc. After all this, we have a block that is back to the original factory tolerances or better.
First, the crankshaft is cleaned as necessary. The journals are then measured. Once it is determined that the necessary bearings are available, the crankshaft is reconditioned as necessary. This may require a simple grinding, a journal welding, a straightening, etc. Each crankshaft is individually estimated and then repaired as required.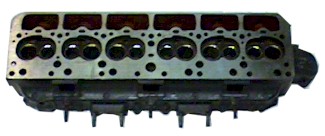 Cylinder heads are disassembled, cleaned, and magnafluxed (zygloed or pressure checked for aluminum or salvage pieces). Then, all parts, such as valves, guides, springs, retainers, and keepers, are cleaned and checked.
Valves that are serviceable are ground, and those that are not serviceable are replaced. Seats and guides are also replaced when necessary or, in some cases, hardened seats are installed.
We do that, and any cosmetic detailing the customer may desire, on cylinder heads that were originally coated on the inside with glycol or similar sealing paint. All cylinder heads are individually estimated and the price can vary depending on what needs to be done.
Assembly pricing is based on the time required, and may vary with the degree of assembly that the customer wants us to do. We also like to start and run a customer's engine when possible and deliver it pre-run, ready to bolt in. This does cost extra, and requires that all the components are available. However, most car owners and restorers find this trouble-free method very economical in time and money in the long run.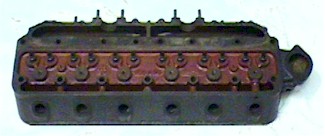 Our work is done at a fair price for quality work. Give us a call or email us at [email protected] with the details of your project for more information.  Please understand that older engines may require appropriate investment in time and money to find or make parts, especially the unique stuff!